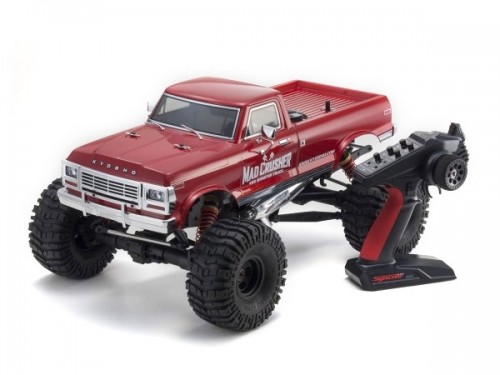 Kyosho - 1/8 GP 4WD Mad Crusher Monster Truck Readyset RTR
Manufacturer: Kyosho Product Code: KYO 33153B
---
KYO 33153B 1/8 GP 4WD Mad Crusher Monster Truck Readyset RTR
Let the might and power of this monster machine inspire you with its dominant presence and performance over the toughest terrain. Get the adrenalin pumping by tearing around wide-open spaces at full throttle as you wreak true R/C truck mayhem! Based on the heavy-duty Mad Force Cruiser chassis, the new MAD CRUSHER incorporates a newly developed 5-link suspension system featuring ball joint upper and lower links in combination with lateral rods that deliver the deeper, supple stroke, more characteristic of rock crawlers. Equipped with the powerful newly developed KE25SP engine, you can ride roughshod over any surface from tarmac to off-road in '70s American pick-up truck style with realistic scale wheels and tires. Simply add fuel and batteries to the MAD CRUSHER Readyset and you can get straight into monster trucking action!
●Fully assembled Readyset only requires fuel and batteries.
●1/8 scale Mad Force monster truck chassis base incorporates new 5-link suspension.
●Pre-cut and painted scale body complete with decals applied recreates the 70's American truck style.
●Rigid axles on front and rear with solid casing effectively transfer power into traction.
●Diff gears incorporate steel spiral gears on front and rear to handle high power loads.
●Large capacity 150cc fuel tank enables long run times.
●Includes Syncro KT-231P+ transmitter and Syncro KR-331 receiver with failsafe function.
●Receiver and battery are stored in radio box for protection against shocks and dirt.
●Waterproof high-torque KS5031-09MW steering servo incorporates metal gears for reliable control of the big chassis.
■Length 590mm
■Width 376mm
■Height 275mm
■Wheelbase 351mm
■Tread 306mm
■Tires (F & R) φ150×70mm
■Gear Ratio 25.7/19.8/15.6:1
■Weight 4,700g (approx.)
■Engine KE25SP with recoil starter

KIT CONTENTS

<Readyset Contents>
●Factory assembled chassis complete with control linkages
●Pre-cut and painted body complete with decals applied
●2.4GHz Syncro KT-231P+ transmitter
●L shaped hex wrench (1.5mm, 2.0mm, 2.5mm, 3.0mm)
●Cross wrench (large)
●17mm wheel wrench

REQUIRED FOR OPERATION

<Required for Operation>
●AA-size batteries x 4 for transmitter
●AA-size batteries x 4 for receiver
●Fuel bottle
●Plug heater
●Fuel
Latest Products
You may also like