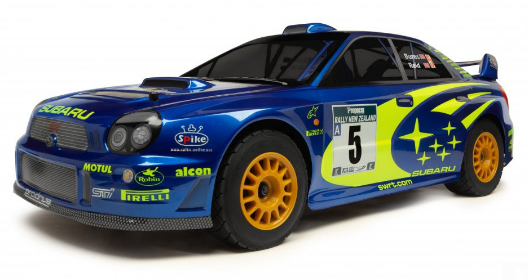 HPI - 1/8 Subaru Impreza WR8 FLUX WRC GP Nitro RTR - 60mp/h
Manufacturer: HPI Racing Product Code: HPI 160211
---
1/8 Subaru Impreza WR8 FLUX WRC GP Nitro RTR - 60mp/h
The Subaru World Rally Team first hit the track in 1989 and went on to grab a record 46 rally wins with the Impreza and multiple Constructors' and Drivers' Championships, competing in the WRC longer than any other manufacturer team in their current form. Subaru used the team to showcase its all wheel drive technology and thrill spectators with the ferocious nature of the vehicle. 

How fitting then that under the officially licensed replica body, the 1/8th 4WD shaft driven WR8 is ready to go to work thrashing down the lanes in true WRC style. Powered by your choice of NITRO or brushless FLUX power!
The HPI Racing WR8 is crammed with awesome features that enhance its durability anywhere you want to take it, including a high ground clearance, skidplate, foam front bumper, optimized rally-style suspension geometry, custom-designed shock towers and dampers, shock debris guards, mud deflectors on the chassis plus extra-thick sway bars for extra control! It's the ideal machine to race your friends on rally stages and multi-surface tracks, or anywhere you like!
The WR8 3.0 is powered by an easy-to-use and powerful Nitro Star G3.0 HO engine with all-aluminum construction and 32,000 max RPM, delivering power through the same tough bevel gear differentials and fully ball bearing-supported 4WD shaft drivetrain. A 2-stage air filter protects the carburetor opening from dirt and dust, and the tall forged aluminum heat sink head allows the engine to keep its cool. An all-aluminum exhaust system unlocks the horsepower from the engine and throws out a real trail of exhaust smoke at top speed!
Latest Products
You may also like