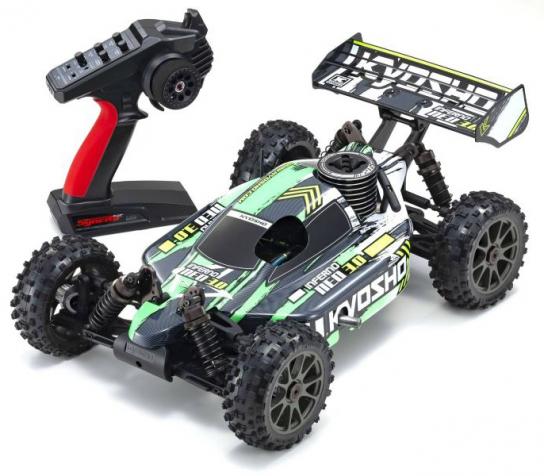 Kyosho - 1/8 Inferno Neo 3.0 Gas Powered Readyset RTR
Manufacturer: Kyosho Product Code: KYO 33012T4B
---
1/8 Inferno Neo 3.0 Gas Powered Readyset RTR
With 8 World Championship titles, the 'Inferno' is proud to be KYOSHO's flagship model. Infused with Inferno DNA, the Inferno NEO 3.0 is ready to race almost as soon as it's out of the box and brings the Inferno's glorious performance potential within reach of everyone. While excelling on racing circuits, the NEO 3.0 also runs through rough terrain like a boss with features such as the user-friendly KE21SP engine with recoil pull starter and Big Bore Shocks with the omnipotent KC Cross Tires that deliver an optimal balance of performance and running stability on any surface. Based on the competition-level chassis, the NEO 3.0 promises exceptional reliability and durability plus wide scope for setting adjustments and custom performance upgrades through the huge range of optional parts available for the MP7.5 series. Experiencing the thrill of engine-powered off-road buggy racing has been made easy with the Inferno NEO 3.0!
•Factory assembled Readyset includes everything except fuel, batteries for transmitter and receiver, starting tools.
•Equipped with four-wheel double wishbone suspension.
•Universal swing shafts are standard on the front drive section and minimize drive loss and improve crash resistance.
•Gear diffs on center, front and rear ensure optimal driving force is transferred to all four wheels.
•Double disc brakes provide the stopping power needed for a large racing machine.
•Sealed mechanical box protects the battery and receiver from crashes, sand and dust.
•Rear wing angle can be adjusted and combined with the new body to fine-tune the traction characteristics. Wing attaches to the wing stay with just two screws and realizes excellent crash resistance.
■Length 469mm
■Width 307mm
■Height 189mm
■Wheelbase 325.5mm
■Tread (F/R) 258mm/261mm
■Tire (F/R) φ116×44mm/φ116×44mm
■Gear Ratio 11.56:1
■Weight 3,400g (approx.)
■Engine KE21SP
■Transmitter 2.4GHz Syncro KT-231P+
<Readyset Contents>
●Factory assembled chassis complete with control linkages
●Finished body complete with printed color scheme
●2.4GHz Syncro KT-231P+ transmitter
●1.5、2.0、2.5、3.0mm L shaped hex wrenches
●Cross wrench
●17mm wheel wrench
<Required for Operation>
●Glow fuel
●8 x AA size alkaline batteries for transmitter and receiver
●Engine starting tools (fuel bottle, plug heater)
Latest Products
You may also like