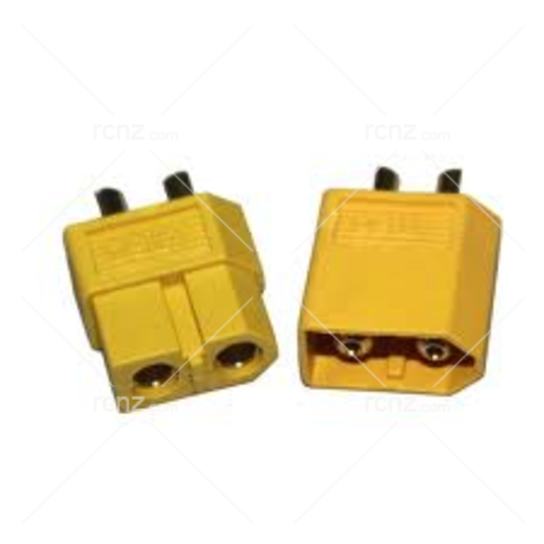 Turnigy - XT60 Battery Plug Male/Female
Manufacturer: Turnigy Product Code: XT60
---
XT60 battery plug
Male & female pair
Dispatch
In Stock Now - Ships within a Day
Excellent Deans T-connector replacements.
Made from high-temp Nylon and gold plated spring connectors, both included in the injection mold at the time when forming the connector. The XT60 ensures a solid high-amp connection, perfect for applications up to and beyond 65A constant.
Turnigy will begin to include the XT60 on all batteries up to 3,000mAh in capacity in the near future!
XT60 designed by Turnigy to be more reliable and a better quality connection than Deans T-Connectors.
IMPORTANT
These are not cheap copied XT60 plugs. These original Nylon XT60 plugs can handle over 60A current for extended periods without exceeding 80DegC thanks to their better contact surface area. The plug is also less likely to deform or melt in comparison to copied non-Nylon XT60 plugs. You may receive either yellow or black XT60 plugs with your order, these are random can not be ordered colour specific.
Latest Products
You may also like