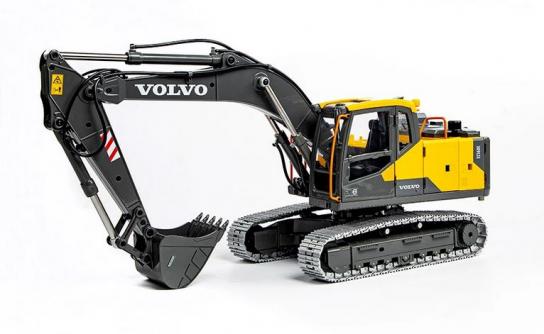 Double Eagle - 1/14 Volvo EC160 Full Metal Electric Excavator RTR
Manufacturer: Double Eagle Product Code: E010-003
---
E0101-003 1/14 Volvo EC160 Full Metal Electric Excavator RTR
The Volvo RC electric excavator (E010) is a top-of-the-line remote control excavator that offers superb performance and easy maintenance. This 1/14 scale (61x20x22cm) replica is impressively realistic, with a boom and arm extension length of 56cm, a turret rotation of 11 times per minute, and corrosion-resistant aluminum tracks (40mm). It has a boom lift force of 10kg, an arm lift force of 7kg, and a shovel force of 5kg - impressive, is it? Thanks to its aluminum alloy body, wheels, and boom, this excavator is tough and durable. This ready-to-dig excavator comes with a pre-set radio control (SY010-08), making it perfect for those who want to get started right away. The excavator also features interchangeable accessories, including wide bucket, hummer and grapple.
July (2021) Version Updates:
The wires have been thickened to provide a better signal transfer and avoid damages.
The semi-circular teeth of the big arm gear matched with the rod are hardened and strengthened, which is more durable and prevents tooth breakage.
Improve the packaging foam box design to prevent damage to the controller switch.
Specifications
Material: aluminium alloy + zinc alloy + electronic components.
Car battery capacity: 7.4V/3000mAh
Remote control time: approx. 40 minutes.
Charging time: approx. 240 minutes.
Remote frequency: 2.4GHz
Remote control battery: 4 x AA batteries (not included)
For ages 14+.
Maximum travel speed: 0.8 km/h.
Maximum climbing angle: 45°.
Rotation speed: 12s / min.
Product weight: 10000g
Packaging dimensions: 71.5 x 30.5 x 30 cm.
Package weight: 13000 g.
Packaging: polystyrene box
Package includes:
1 x excavator.
1 x battery.
1 x remote control.
1 x USB cable.
1 x manual
Latest Products
You may also like