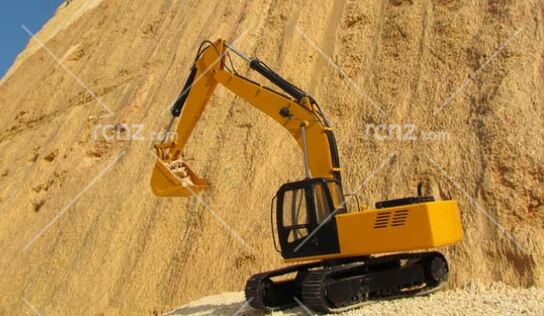 RC4WD - 1/12 4200XL Hydraulic Excavator RTR
Manufacturer: RC4WD Product Code: VV-JD00002
---
1/12 4200XL Hydraulic Excavator RTR
Dispatch
Overseas Supplier - Ships within 4 weeks
Earth Digger 4200 hydraulic excavator is the most powerful excavator available today, created for the customer who requires reliability and high production in bulk earth moving or construction projects. CNC machined metal parts, fully assembled, ready to dig! Massive power through 380KV brushless system.


Specifications: 
100% CNC Machined Aluminum (except Track and Hydraulic Pump)

Custom 8 Channel 2.4Ghz radio

High Intensity Light (Super bright) (3 Watt)

Optimized Steel Hydraulic system

Scale operator station (can fit a driving figure and seat)

Steel Molded Tracks (50mm Width, 45 grade carbon Steel)

Efficient under carriage with Tracks

Reliable Hydraulic valve and Adjustable Pump

Heavy Duty Hoses (OD 4.5mm Nylon, ID 2.5mm)

Bearing based undercarriage design

Undercarriage rotate 360 degrees (Endless)

Powder coated in yellow

Massive brushless system (Hydraulic)

60A brushless ESC with BEC

350KV brushless monster torque motor (4130 OutRunner, 6mm Shaft)

Neodymium magnets

Belt/track is controlled individually

XT60 Power Plug Female

Run time is: 40-50 minutes (6500mAh battery)

Steel Machined Oil Pump (45mm X 30mm X 15.5mm)

Digging force: 15kg / 33pounds

Driving Speed: 310 Meter per hour

Scale: 1:12

Dig Depth: 495mm / 19.4inch

Height of Cabin: 155mm / 6.1inch

Length: 1.15meter / 45inch

Width: 250mm / 9.8inch

Height: 840mm / 33inch

Dead Weight: 20kg / 44lbs

Operating Oil Pressure: 20Bar, 290psi

Inside Cab Length: 4.72in / 120mm

Inside Cab Width: 2.55in / 65mm

Inside Cab Height: 5.31in / 135mm

Manufactured by JDCustoms

30 Days Limited Warranty
NOTE: $30 FREIGHT APPLIES TO THIS PRODUCT
This is version 2.0: (Current version)


Customer's ride pictures:
Image provided by RC Sparks using Earth Digger 4200xl.

NOTE $60 FREIGHT APPLIES TO THIS ITEM

What's Included:
1/12 JDCustoms Earth Digger 4200XL Hydraulic Excavator (RTR) (Version 2.0)
Required Parts:
Li-Po 5000mAh 11.1V 50C 3S1P Short-Size Lipo Battery Pack with XT60 Plug

8x AA Batteries for Radio 



Optional Parts:
Chevron AW ISO 32 Hydraulic Oil 14oz 

Note: During operation, HID light might flash due to power drain.

Notes:

While some components may come assembled, it may be in your best interests to check the products to ensure all hardware is tight. In some cases you may want to apply threadlock to some of the hardware that is already installed.

ESC Supports XT60 Connector

Use good quality hex drivers to avoid stripping screw heads.

Use thread lock when putting metal screws into metal parts.

Steps marked with an asterisk (*) require thread lock.

Use thread lock sparingly.

Do not over tighten screws otherwise you may strip the thread.
Warranty information
This product is made for heavy duty usage. Since there is no plastic parts, its designed to last. But hydraulic pump, hoses and electronics system can break over time. Do not let the system overheat during usage. We will have all spare parts available for sell. Pump, hoses are electronics system is not covered under warranty, but we do guarantee fully functional at arrival. Each unit is full tested twice before we ship.
Each unit is professionally assembled, adjusted and tested. Do not adjust the oil pressure switch. Oil pressure will drop as you operate over time.
This Excavator is shipped without oil. You will have to fill the tank your self (half tank), by using a funnel or tube (not included).
Strength Test Video by Martin Hough "Click Here"
Digging Test Video by Martin Hough "Click Here"
Awesome Video by RC Sparks "Click Here"
Instruction Manual:
Latest Products
You may also like