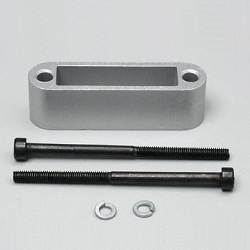 Dubro - Muffler Extension .40-.46
Manufacturer: Dubro Product Code: 10-699
---
699 1/2" muffler extension for .40-.46 motors
Comes with two 3 x 50mm cap head screws
This is a 1/2" muffler extension for .40-.46 size engines such as O.S. MAX, ASP, Magnum and Thunder Tiger.
This goes between the engine and muffler, bringing the muffler outside the fuselage.
INCLUDES: (1) 1/2" aluminum muffler extension
(2) 3 x 50mm cap head screws

This extension will fit any engine that has the same exhaust port dimensions
as the O.S. .40-.46 SF engine, ASP .46, Royal .46, Thunder Tiger Pro .40-.46,
and the Magnum XL .40-.46.
SPECS:
Distance between centers of mounting holes: 36mm(1.419")(about-1-3/8").
Exhaust port dimensions: 30mm(1.184")(about-1-3/8") x 8mm(0.321")about-5/16"
Latest Products
You may also like