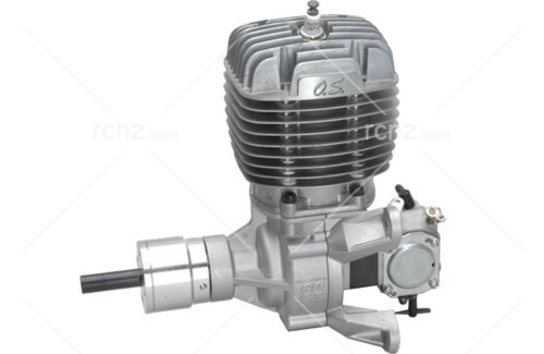 O.S - GT60 Gasoline Engine with E-6020 Silencer
Manufacturer: O.S Engines Product Code: 38600
---
38600 GT60 Gasoline Engine with E-6020 Silencer
Dispatch
Special Order - PLEASE ENQUIRE
MORE POWER for 50 cc class aircraft!
New to the GT series is the GT60 which is the largest in the range.
It features liner-less cylinder integrated with the cylinder head with thoroughly pursued best intake/exhaust timing and high scavenging efficiency. This contributes to better cooling and lighter weight. It employs the reed valve/rear carburetor system whjich has high performance proven by the GT33 and GT22.Also highly effecient Pitts style silencer is offered at the same time.
This is a suitable power source for big scale and areobatic models.
With the GT60, O.S. gives fliers of 50 cc models everything they want in a gasoline engine -- durability, efficiency, easy operation and super-strong performance.
O.S. takes advantage of liner-less cylinder construction for benefits that include lower weight, improved cooling, and exceptionally efficient exhaust scavenging. Intake and exhaust timing are perfected as well.
Instant throttle response makes the GT60 an outstanding choice for 3D flying. When you need more power ASAP, this engine delivers!
Available with or without Pitts-style E-6020 muffler.
Redesigned IG-02 electronic ignition system offers quick starts and accepts 4-6 cell NiCd/NiMH or 2-cell LiPo batteries.
Rear-mounted Walbro carburetor is custom-designed for the GT60.
Connecting rod features needle roller bearings at both ends.
Angled spark plug allows easy installation in tight spaces.
Recommended prop sizes: 22x8, 22x10, 23x8, 24x8, 24x10.
Latest Products
You may also like