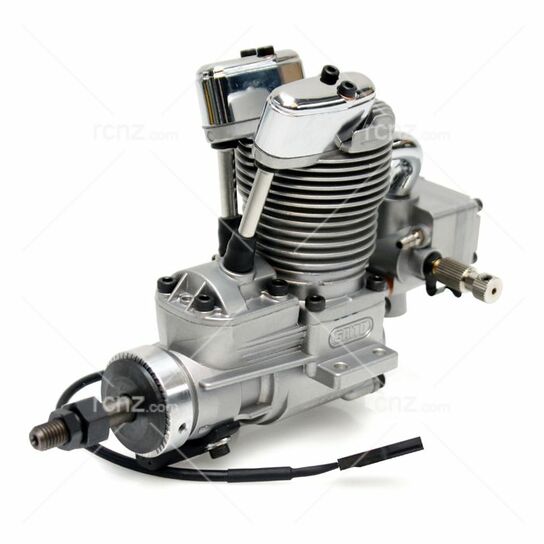 Saito - FG-11 4C Gasoline Engine with Electric Ignition
Manufacturer: Saito Product Code: SAITOFG11
---
FG-11 4C Gasoline Engine with Electric Ignition
Dispatch
Overseas Supplier - Ships within 4 weeks
PRODUCT FEATURES
Compact .60-size design fits into conventional 40- to 60-size aeroplanes.
Petrol engine lowers operating costs as much as 90% per flight expenses.
Uses the proven and reliable FA-62B platform.
Complete with Saito pump carburetor, muffler, ignition and engine mount.
Compact Saito 4-stroke ignition module is 2S Li-Po battery compatible, provides easy starts and reliable performance with a lower power consumption.
Unique Saito Four-Stroke sound.
PRODUCT DESCRIPTION
The RC industry's most reliable manufacturer of top-quality glow 4-stroke engines introduces the Saito FG-11 Petrol engine. Finally there's an answer for you 4-stroke fans who have been waiting to put Petrol power in a 40-size airplane. The Saito FG-11 engine is the Petrol burning equivalent to the proven .62 AAC glow engine in terms of size and dimensions, yet it gives you the starting ease and reliability of an electronic ignition and pumped carburetor. Best of all, it comes from the RC industry's most reliable manufacturer of top-quality 4-stroke engines. So if you can't wait to start running a cleaner and more efficient engine mount up an FG-11 and start enjoying the 90% savings per flight and Saito power and precision craftsmanship, the distinguished look and sweet sound stands as a reminder to everyone at the flying site of your discerning prowess for performance.
As an expert in reliable 4-strokes, Saito engineers have spent years developing the best-built 4-stroke Petrol engines. The power-to-weight ratio of a Saito engine creates a one-of-a-kind flying experience. For serious modelers, the long awaited arrival of a high-quality, powerful and precision craftsmanship Petrol engine is here.
SPECIFICATIONS:
Displacement: 10.9cc
Bore: ø27mm
Stroke: 19mm
Weight: Body: 465g / Muffler: 50g / Ignition system: 100g / Engine mount: 110g Approx
Practical Speed: Approx.2,000-9,500rpm
(Max on Ground) Approx.8,500~8,800rpm
Recommended Prop: 12 x 8in ~ 13 x 8in
Static Thrust: APC 13 x 7in Approx.1.3~1.7kgf (Depend on prop)
Fuel Consumption: Approx. 7cc/min (At full throttle 8,800rpm)
*Fuel flow varies depends upon prop load. More fuel flow with larger load and less fuel flow with smaller load.
Battery for Ignition System: Voltage: 6-8.4V higher than 1,000mA is recommended.
Latest Products
You may also like