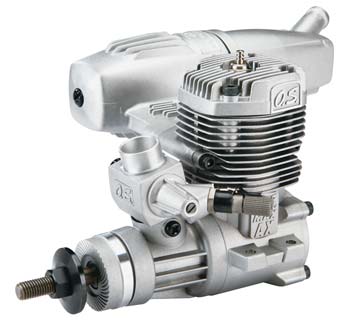 O.S - Max-46AX II with E-3071 Silencer
Manufacturer: O.S Engines Product Code: 15490M
---
15490 Max-46AX II with E-3071 Silencer
This is the O.S. Max .46AXII ABL BB Model Airplane Engine with Muffler.
Ideally suited to sport and aerobatic aircraft.
Advanced Bi-Metallic Liner. This process uses a double layer of
plating material rather than one thick layer. This helps the metal
to bond to the cylinder and is more durable. Also, the plating
process is more consistent, resulting in a more precise fit between
piston and sleeve for better compression, longer life.
Side exhaust
E-3071 Power Box muffler with squared-off shape enables it to fit
into a variety of cowls
40K carburetor with rear angled needle valve for added safety
Ball bearing-supported crankshaft
Two-year limited warranty through Hobby Services beginning at date of
purchase
One O.S. Max .46AXII ABL BB model airplane engine w/muffler, A3 glow
plug, two 3mm x 35mm cap head muffler screws, extension cable for
remote needle, 3mm x 35mm cap head muffler screws, warranty sheet,
decal sheet, and illustrated instruction manual
Fuel containing 5%-20% nitromethane with at least 16% lubricant
Most of the fuels we carry meet or exceed the lubricant content
required for optimum performance and maximum engine life. In the
past, the conventional lubricant content used in fuel was 18%. But
with new advanced technologies, fuels like Red Alert and O'Donnell
for example, have a better quality of lubricants even though the
percentages of lubricant content are lower. These high-tech
lubricants provide exceptional cooling and protection.
Displacement: 0.455 cu in (7.45cc)
Bore: 0.866" (22mm)
Stroke: 0.772" (19.6mm)
Practical RPM: 2000-17000
Power Output: 1.65PS, 1.67HP/16000 RPM
Weight: 13.3oz (378g) without muffler
Recommended Propellers: 10.5x6, 11x6-8, 12x6-7, use 10x6 for break-in
Crankshaft Size: 1/4-28
Distance from remote needle to end of crankshaft: 4.7" (119.4mm)
Distance from center of engine to drive hub: 2.4" (61mm)
Distance from center of engine to end of crankshaft: 3.4" (87.6mm)
Distance/crankshaft center to muffler exhaust outlet: 3.9" (100.5mm)
Height from crankcase bottom to top of cylinder head: 3.3" (85.2mm)
Height/crankshaft center to top of cylinder head: 2.6" (67.4mm)
Width including mounting tabs: 2" (50.8mm)
Width not including mounting tabs: 1.4" (35.6mm)
Width/mounting hole centers same side: .69" (17.5mm)
Width/mounting hole centers opposite side: 1.7" (44mm)
Diameter of muffler body: 1.5" (38.1mm)
Angle of muffler in relation to engine: 4?
Carburetor Settings;
Needle Valve: 1 1/2 to 2 turns out from closed position
Low Speed Needle (aka: Mixture Control Valve): Close throttle rotor
gradually from the fully opened position until it is just fully
closed (do not turn further).
Screw in the Mixture Control Screw until it stops. Now open the
Mixture Control Screw approx. one turn.
You may also like