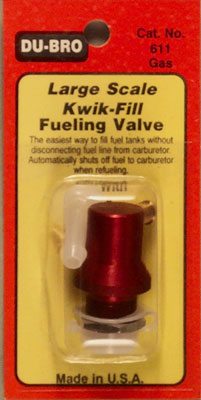 Dubro - Large Scale Fuel Valve-Gas
Manufacturer: Dubro Product Code: 10-611
---
611 Large scale fuel valve-gas
This is the Large Scale Kwik-Fill Fueling Valve. The Valve Mounts to the Modeland a Special Probe is Used When Fueling. With the fuel valve you don't haveto disconnect any fuel lines to fuel the model. The valve and probe are colorcoded Red to signify they are for use with gasoline.
INCLUDES: One Kwik-Fill Fueling Valve for GASOLINE One Fueling Probe
SPECS: Fuel Tubing Size: 1/8" or 5/32" ID Valve Length: 1-3/8" Valve Diameter (thru fuselage): 1/2"
Latest Products
You may also like