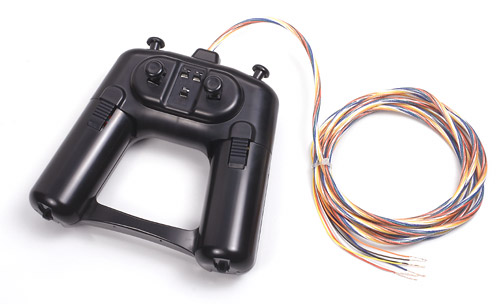 Tamiya - 4ch Remote Stick Controller
Manufacturer: Tamiya Product Code: 72006
---
72006 4 channel remote controller for robots
Departing from the usual box-shape of most remote controllers, the two-grip style has been ergonomically designed to fit comfortably in your hands. The 4-channel controller has 4 control sticks which individually control up to 4 motors, making it perfect for running complex and exciting robots. The controller can use both R20/D/UM1 and R14/C/UM2 batteries and can switch between high and low power modes.

Controlling complex robots just got a whole lot easier with Tamiya's new 4ch 4-stick Controller. The ergonomic two-grip design fits comfortably in your hands and the 4 control sticks are logically placed for the most natural control layout. Furthermore, you can choose from low-power (2V) operation or high-power (3V) operation. This easy to assembly controller includes a 2 meter long control cable that enables a high degree of movement freedom. Up to four 130 or 260 Type motors (sold separately) can be precisely controlled.

Precision Movement Control
The two sticks on the face of the controller are most conveniently designed to control a robot's basic movements such as forward/reverse and left/right turning. Sticks can be operated in unison or independently to create a wide range of movement options.

Shoulder Sticks for Auxiliary Controls
The two shoulder-mounted sticks are perfectly placed to operate complex robots with crane arms or other such extra operational features. For even greater ease of use, all 4 control sticks feature a self-neutral function.

Wiring Made Easy
The controller"s 8 cords are conveniently contained within a clear flexible tube to prevent loose wires from interferring with robot operation. The wire ends are also semi-stripped to aid in the wiring process to make assembly a breeze.

Power Source Flexibility
The controller can be powered by two C batteries (one in each grip), or a single D battery. Just install the kit-included battery terminal parts that correspond to each type of battery to use whichever type is more convenient.
Latest Products
You may also like