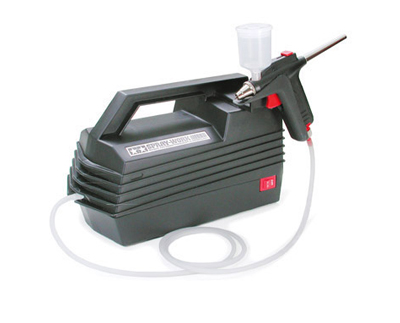 Tamiya - Spraybook Airbrush Set
Manufacturer: Tamiya Product Code: 74520
---
74520 Spraybook airbrush set
Tamiya's Spray-Work Airbrush Set which came out in 1988 and was well received for its easy use and effectiveness when spraying camouflage and gradation patterns, has now evolved to the next level. The compressor now comes in convenient case form, and operating noise has been considerably reduced. This new set also features improved spray stability and control. With a nozzle diameter of 0.3mm, beginners should find the airbrush easy to use. From 2mm-thin lines to base coat, this set can be used with ease to paint a variety of surfaces. Compressor uses re-chargeable 7.2V Battery Pack (Sold separately).
Compressor Statistics
Size: length-220mm, width-105mm, height-138mm, compressor weight: approx. 800g.
Maximum continuous running time with 7.2V battery: approx. 20min. (1400mAh)- approx. 30min. (1700mAh)
Maximum air-pressure: approx. 0.11Mpa (approx. 1.1kgf/
)
Maximum air output: 20 liters per minute (unburdened)

**Required Item**
Tamiya 7.2 Battery Race Pack
Latest Products
You may also like