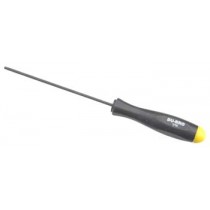 Dubro - 1/16 Ball Driver
Manufacturer: Dubro Product Code: 10-886
---
886 1/16 Ball driver
This is a Du-Bro RC 1/16" Ball Driver.
FEATURES: The perfect tool for getting at those hard to reach places. Durable steel driver. Transparent yellow, + shaped plastic handle with driver size engraved. Ball wrenches make it possible to turn socket head screws or bolts from any angle.
INCLUDES: One Ball Driver
SPECS: Size: 1/16" Overall Length: 4-3/4"
Latest Products
You may also like