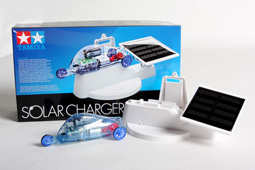 Tamiya - Solar Power Generator
Manufacturer: Tamiya Product Code: 75024
---
75024 solar power generator
This Solar Power Generator Set is perfect for young children and educational purposes.
Electricity generated by the solar panel is charged in a capacitor installed in the car model.
Detach the car from the cradle, and you can enjoy running the car model for 3 minutes.
Includes 65x65mm solar panel (Generates 2.0V 125mA / 35,000lx.).
Includes car model with a car carrier.
Fine Weather
Brightness: Approx, 40,000-100,000
Charging Time: 2-5 minutes
Running Time: Approx. 3 minutes
Cloudy
Brightness(lux):20,000-40,000
Charging Time: Approx 5-15 minutes
Running Time: Approx. 2 minutes
100W Light
Brightness: Approx. 3,000(from 20cm)
Charging Time: Approx. 5 minutes
Running Time: Approx. 90 seconds
Latest Products
You may also like