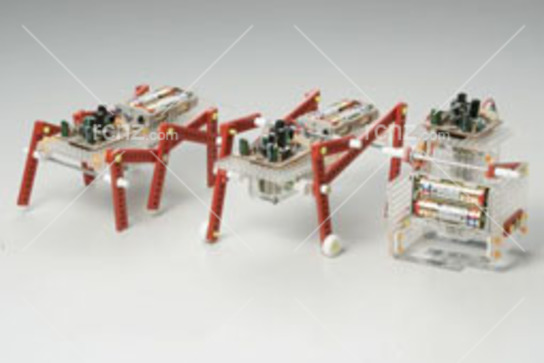 Tamiya - Sound Activated Robot
Manufacturer: Tamiya Product Code: 70166
---
70166 sound activated robot
Dispatch
2 - 6 Business Days
As well as offering historically accurate scale models and high performance R/C cars, Tamiyacontributes to educational development with this special construction series designed to helpusers learn about basic mechanics. This set offers everything you need to build an exciting 2,4, or 6-legged walking robot fitted with sound sensor! Simple design and easy-to-use partsmake this set perfect for first-time robot builders. Constructing this robot is fun and educationalas it helps you learn the basics of mechanical linkages used to make the legs work.
Build either 2, 4, or 6-legged walking robot powered by single motor.
Use sound activated sensor to control when robot starts and stops.
Simple, easy-to-build design uses small number of parts and pre-built gearbox.
Installation uses no screws, only simple-to-use yet secure push rivets.
Uses two R6/AA/UM3 batteries (Not included).
Sound sensor unit x 1
Motor x 1
Universal plate (clear) x 2
Long universal arm x 4
Universal bolts x 4
Push rivets (full set)
Gearbox (pre-built)
Battery case
Latest Products
You may also like