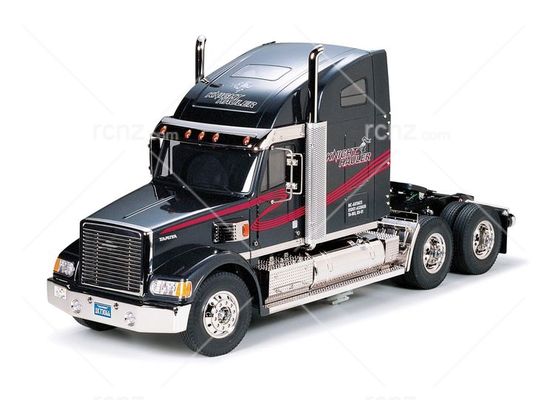 Tamiya - 1/14 Knight Hauler
Manufacturer: Tamiya Product Code: 56314
---
56314 1/14 Knight Hauler R/C truck
Dispatch
2 - 6 Business Days
This 1/14 scale R/C Tractor Trucks Item features an originally designed truck body. Hood, large roof spoiler, interior, and lights (clear orange parts), which have been artistically rendered in exquisite detail. Grill, tank, exhaust and steps have been beautifully rendered with metal plated parts. Kit includes stickers and 540 motor. 7.2V battery pack and R/C system are sold separately.
About the Tractor Truck Multi-Function Control Unit
Tamiyapresents incredible sound and action options for the Tractor TruckKnight Hauler or any 1/14 scale R/C Tractor Truck with the R/C TractorTruck Multi-Function Control Unit (Item #56511). This system, whenmounted on the truck is located inside the cabin with speaker to thefront and the MFC-01 unit to the rear. The control unit is mountedinside the left tool box for easy access. The Multi-Function Control Unit is sold separately.
A 4-channel R/C system activates all functions
By using your transmitter sticks and the trims you can control the truck movements (forward/backward running and turns), horn, motorized support legs (Item #56505)(sold separately), headlights, position lamps, roof lamps and speedindicators. You can also activate the back lamp, tail lamps andblinkers/hazard lamps as well as engine revving.
20 LED for 9 light functions
Alllamps employed with the multi function unit are high brightness typeLED. They are employed to reproduce headlights, position lamps, rooflamps, speed indicators, fog lamps, back lamp, tail lamps andblinkers/hazard lamps, which can be turned on/off with the transmitter.
| | |
| --- | --- |
| White LED | Headlights, Fog lamps, Position lamps, and Back lamp |
| Orange LED | Roof lamps, Blinkers, Hazard lamps, and Speed indicators |
| Red LED | Tail lamps |
24 Radio-Controlled Sound Effects
Themulti function unit offers 24 radio-controlled sounds that have beendigitally recorded from an actual tractor truck. The R/C Tractor TruckMulti-Function Control Unit is capable of the following functions:
| | |
| --- | --- |
| Engine | Engine starter, Idling, Revving, Running with semi-trailer, Running without semi-trailer, and Engine stop |
| Air | Air dryer, Up-shifting, Down-shifting, Air discharging 1, Air discharging 2, Short horn, Continuous horn, and Parking brake |
| Electric Sounds | Alarm 1, Alarm 2, Turn signal 1, Turn signal 2, Hazard, and Back alarm |
| Exhaust brake | Exhaust brake |
| Brakes | Brakes |
| Coupler | Coupler attachment, Coupler detachment |
The Knight Hauler can be equipped with 4 different semi-trailers (available separately)
Tamiyaproposes 4 different semi-trailers that can be adapted to the KnightHauler: A boxcar semi-trailer, a tank-trailer, a flatbed semi-trailerand a pole-trailer. When coupled with the Knight Hauler, you obtain a1m long realistic truck. When using the multi function unit, whichcontains an electronic speed controller, you can run your truck veryslowly. With sound and light effects, you will swear this is an actualtruck.
 Specifications
Total length: 630mm
Total width: 186mm
Clearance: 19mm
Weight Fully-Equipped: about 3,1kg (without multi function unit)
Wheelbase: 476mm
Tread F/R: 156/138mm
Chassis Material: Aluminum and polycarbonate plastic
Chassis Shape: Ladder Type Frame
Suspension: Front and Rear Rigid Axle w/Metal Leaf Springs
Caster Angle-F/R: 0deg/0deg
Camber Angle-F/R: 0deg/0deg
Toe Angle-F/R: 0deg/0deg
Damper: F/R Aluminum Dummy Dampers
Drive train: 2-axle
Transmission: 3-gear transmission (gear shifting operated via transmitter)
Gear Ratio: 1st gear 32.49:1, 2nd gear 17.76:1, 3rd gear 10.66:1
Diff. gear system: F/R Bevel Gear Diff
Motor: RS540 (standard in the kit)
Tire Width: F/R both 22mm
Tire Diameter: F/R both 88mm
Requires eight R6/AA/UM3 batteries for transmitter (sold separately).
Latest Products
You may also like