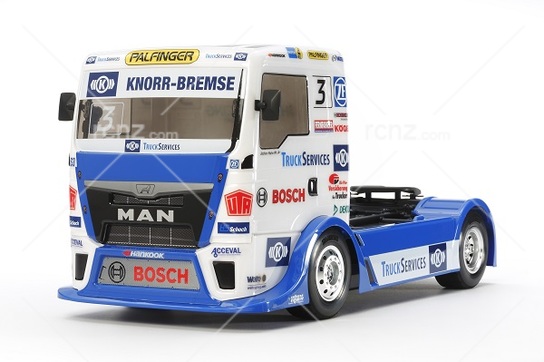 Tamiya - 1/14 MAN TGS Team Hahn Racing Truck TT-01E Kit
Manufacturer: Tamiya Product Code: 58632
---
58632 1/14 MAN TGS Team Hahn Racing Truck TT-01E Kit
Description:
This is Tamiya 1/14 TT01E Team Hahn MAN TGS Truck EP w/ ESC.
Weighing in at a colossal 5,400kg, the trucks in the European Truck Racing Championship are truly the heavyweights of motorsport. But size isn't the only thing that's extreme about these incredible machines. The Team Hahn Racing MAN TGS truck is powered by a huge 1,100hp turbocharged diesel engine. To get that phenomenal power from the engine to the tarmac is no easy task, which is why the truck takes advantage of a Mechanical 16-speed ZF gearbox to get it up to speed. In 2015, driver Joachim Hahn piloted the truck to a creditable 3rd position in the Championship.
The Tamiya radio control replica faithfully captures the giant race truck. The polycarbonate body sits atop the TT-01 E chassis, which is designed for easy assembly and maintenance.
Feature:
Scale: 1/14
Construction type: Assembly kit
Terrain use: On-Road
Drive-train: 4WD
Drive type: Gearbox
Drive line: Dog Bone
Differential type: Gear
Suspension: Fully independent double wishbone
Steering mechanism: Bell-crank
Shock damper: Friction damper
Shock damper material: Plastic
Tire type: Rubber
Tire tread: Radial
Body material: Polycarbonate
Chassis material: Plastic
Electronic Speed Control (ESC): Included
ESC model: TBLE-02S
LED Light buckets: Yes
LED lights: No
Motor: 540-brushed type
Bearings: Plastic bushing
Adjustable camber: Fixed
Adjustable toe angles: Front only
Adjustable ground clearance: Yes
Adjustable gear ratio: Yes
Adjustable wheelbase: Fixed
Adjustable track width: Fixed
Adjustable shock angle: Fixed
Special feature 1: 4-piece durable and lightweight polycarbonate body.
Special feature 2: Included marking stickers recreate the sponsor livery of the #3 Team Hahn Racing truck for the 2016 season.
Special feature 3: Newly designed 70mm diameter radial tires and wheels.
Special feature 4: Compatible with LEDs and separately-sold Tamiya LED Light Unit.
Special feature 5: The TT-01 Type-E chassis features a shaft-driven 4WD system.
Special feature 6: A wide range of option parts is available to tune the TT-01 Type-E chassis.
Vehicle Specification:
Length: 438mm
Width: 190mm
Height: 207mm
Wheelbase: 257mm
Include:
Tamiya 

1/14 TT01E Team Hahn MAN TGS Truck

ESC
Motor: Type 540 motor
Body
Wheels(4Pcs)
Tires(4Pcs)
Decals
Instruction
Require:
2-channel Radio Gear
Receiver
Servo
7.2 battery & Charger
Click Here for a Futaba Radio set, servo, battery and charge combo
You may also like