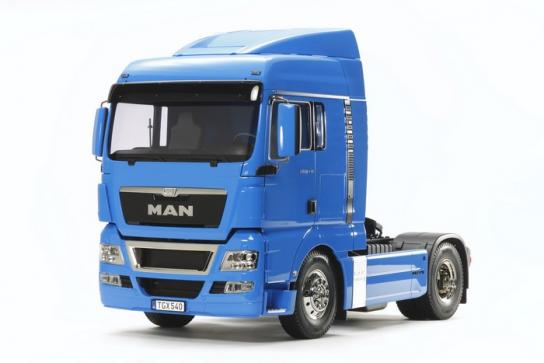 Tamiya - 1/14 MAN TGX 18.540 4X2 XLX Kit
Manufacturer: Tamiya Product Code: 56350
---
56350 1/14 MAN TGX 18.540 4X2 XLX Kit
This is a special edition of the 1/14 R/C MAN TGX 18.540 4x2 XLX assembly kit. It comes with body components, which are beautifully pre-painted in Tamiya TS-10 French Blue (clear topcoat applied), with a durable coating applied to protect the paintwork from damage.
The Tamiya rendition of the MAN TGX 18.540 4x2 XLX faithfully captures the truck's modern form with the use of ABS plastic body parts and a number of metal chassis components. One look at the detailed interior and auxiliary equipment, such as air tanks, will confirm that the body features replica-quality realism, which is further enhanced with metal transfers depicting emblems and numerous metal-plated parts. The chassis is built for durability as it uses aluminum side channels with resin cross members. Drivability is accomplished by power from the front-mounted motor and is transmitted via a propeller shaft to the rear axle; built-in differential gears guarantee smooth cornering. Gear changes can be made via a separately sold 4-channel transmitter.
The model features a highly detailed body and a 2-axle chassis with durable ladder frame. When controlled with a separately available R/C system, the 3-speed transmission enables authentic gear changes while driving.
| Type | Detail |
| --- | --- |
| Scale | 1/14 |
| Construction type | Assembly kit |
| Terrain use | On-Road |
| Drive-train | 2WD |
| Drive type | Gearbox |
| Drive line | Dog bone |
| Differential type | Gear |
| Suspension | Leaf spring |
| Steering mechanism | Direct servo |
| Shock damper | Friction damper |
| Shock damper material | Aluminum |
| Tire type | Rubber |
| Tire tread | Radial |
| Body material | ABS Plastic |
| Chassis material | Aluminum & plastic |
| Electronic Speed Control (ESC) | Not included |
| ESC model | N/A |
| LED Light buckets | Yes |
| LED lights | No |
| Motor | 540-brushed type |
| Bearings | Metal bushings |
| Adjustable camber | Fixed |
| Adjustable toe angles | Front only |
| Adjustable ground clearance | Fixed |
| Adjustable gear ratio | 3-speed transmission |
| Adjustable wheelbase | Fixed |
| Adjustable track width | Fixed |
| Adjustable shock angle | Fixed |
| Special feature 1 | Length: 458mm, Width: 193mm, Height: 298mm, Wheelbase: 272mm. |
| Special feature 2 | The model features a realistic body and a 2-axle chassis with durable ladder frame. |
| Special feature 3 | Cab, F, H, K, M and CC parts are replaced with pre-painted French Blue color parts. |
| Special feature 4 | When controlled with a separately available R/C system, the 3-speed transmission enables authentic gear changes while driving. |
| Special feature 5 | Metal leaf springs and friction dampers enable realistic suspension movement. |
| Special feature 6 | Cabin tilts forward just like the actual truck. |
| Special feature 7 | The included coupler enables connection with any currently available Tamiya 1/14 scale trailer. |
| Special feature 8 | The realistic interior includes seats and dashboard while metal-plated parts as well as metal transfer emblems enhance exterior detail. |
| Special feature 9 | Tamiya Attack 2.4GHZ Radio System - 4-Channel ideal for 100% compatibility. |
| Requires A | 4-channel radio gear |
| Requires B | Electronic speed control |
| Requires C | 7.2 battery & charger |
CLICK HERE for a radio, servo, battery, charger & paint combo
Latest Products
You may also like