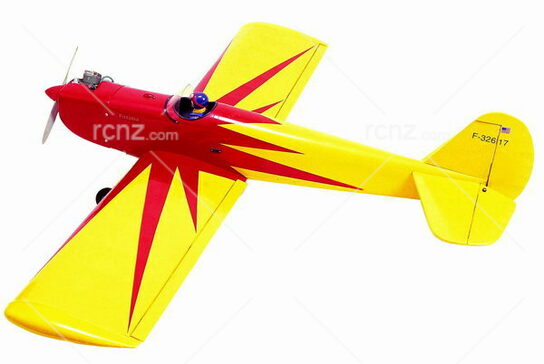 VQ Model - Space Walker EP/GP 46 Size 'Double Seat' ARF
Manufacturer: VQ Model Product Code: VQA018DS
---
Space Walker EP/GP 46 Size 'Double Seat' ARF
The space walker is a perfect model to introduce you to semi-scale world.

This is an icon of American civil aircrafts. Particularly appreciated by amateur aircraft makers, who are all members of the EAA (experimental aircraft association), the space walker is an aircraft with delicious old-fashion design, inspired from what was produced in the 30's, the absence canopy being a characteristic of this period.

The whole framework is covered with a colour-printed plastic film that reproduces the traditional pattern of the real one, red and yellow. It is an all-wood construction.
Features:
- All-wood construction
- Almost ready to fly
- Assembling can be achieved very quickly.

 Specifications:
- Wingspan: 62.2" (1,58m)
- Fuselage: 40.1" (1,02m)
- Weight: ~5.1 - 6.4lbs (~2300 - 2900g)
- Glow Engine: 7.5cc 2T / 8.5cc 4T
- Electric Motor: 870 Watt
Radio req: 5 channels, 5 servos

 Includes:
- Assembly instructions with stage photos
- Fuselage
- Wing panels
-Tail plane and fin
- Undercarriage
- Wheels
- Small items
- Linkage hardware pack

Does not include: radio, motor, glue, and silicon fuel line
Latest Products
You may also like