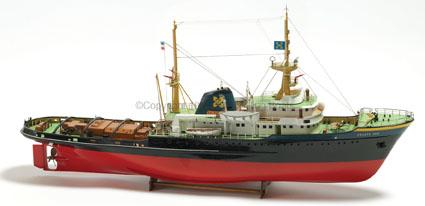 Billing - 1/90 Zwarte Zee Tug Boat Kit (R/C Capable)
Manufacturer: Billing Boats Product Code: BIL 01-00-0592
---
B0592 1/90 Zwarte Zee Tug Boat Kit (R/C Capable) Experienced
Billing Boats Zwarte Zee Tug - is a scale model ocean going tug. The Zwarte Zee was built in 1963 at J. & K. Smit's Scheepswerven N.V. in Kinderdijk, Holland. Length 77.50 m, breadth 12.35 m, draught 6.90 m and gross tonnage 1,539 tons. Driven by two Smit-M.A.N. turbo diesel engines yielding 9,000 HP. These machines drive a single propeller shaft through Vulcan fluid clutches and reduction gears. When a fast manoeuver is necessary, one of the engines can drive forwards, the other reverse. Speed 18 knots.
Kit Contents:
Plan with detailed building instructions German, English, French, Danish, Italian and Dutch, ABS plastic hull, decks from wood, plastic and wooden parts to finish the model, stern tubes with shafts and propellers.
Fittings Contents:
All fittings included (e.g. position lights, anchors, life-belt, etc.)
RC Functions:(if fitted, not included in kit)
Forwards - Stop - Backwards.
Rudder Control.
Specification:
Length 900 mm.
Width 155 mm.
Height 370 mm.
Scale 1:90.
Latest Products
You may also like