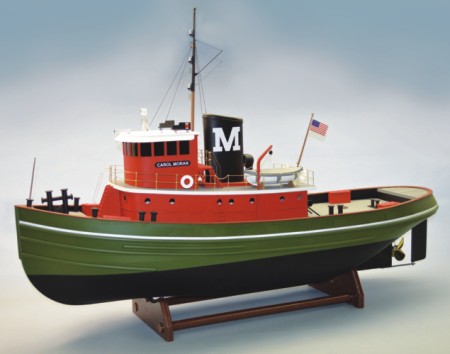 Dumas - Carol Moran Tug Boat 50" (Kit Only)
Manufacturer: Dumas Product Code: DUM 1272
---
DUM 1272 Carol Moran Tug Boat 50" (Kit Only)
Dumas is back with a brand new jumbo tug boat. Simply put it is the biggest tug boat Dumas have ever made.
This 50" model features balsa planking over laser cut poplar plywood frames. The cabin and pilot house are constructed from die-cut and laser cut poplar plywood with expanded pvc sheeting. The kit includes all of the detail pieces such as turned brass stanchions, cast metal parts, several large urethane castings, vacuum formed parts, decals and laser cut detail pieces. A 54 page instruction booklet and 108 corresponding figure drawings walks you step-by-step through construction. And as you would expect from a boat this size, it is a fantastic running model. If you have been thinking you might want to try living large, then you have to take a look at the new Carol Moran.
Length: 50" Beam: 13.5" Scale: 1/24th
Additional parts required to power and radio control the model:
Dumas #2004 6v motor, Electronic Speed Control, 7.2v Battery Pack, Two Channel Radio
Use Running Hardware Kit #2379 for the Drive Line System. Please note some of the running hardware parts are called for early in the construction of the model.
Latest Products
You may also like