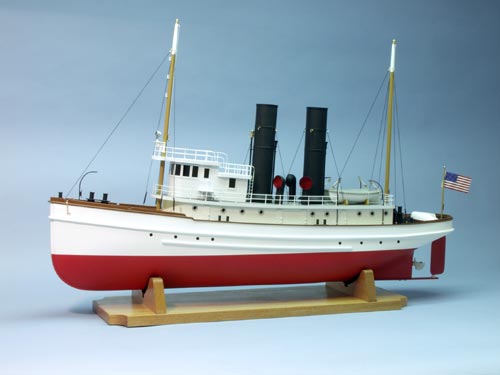 Dumas - Lackawanna Tugboat 33" Kit
Manufacturer: Dumas Product Code: DUM 1251
---
1251 Lackawanna Tugboat 33" Kit
This coastal tug built in 1900 not only burned coal for power but also but also hauled barges filled with coal along the New England coast. The Lackawanna was 137 feet long but her gorgeous sheer and festive air made her appear almost yacht like. Our 33 inch model of the Lackawanna captures all the beautiful lines of this classic tug.
This kit features a vacuum ABS plastic hull and expanded PVC die cut parts. The Lackawanna is not short on detail with tons of laser cut parts and loads of castings and turnings. Top it off with clear and concise step by step plans and instructions and you have a great kit of an Early 20th Century Tug that is truly a pleasure to build.

Length 33 inches Beam 6 inches
Power One Dumas 2004 6v Motor
Running Hardware 2368 for single screw power.
You may also like