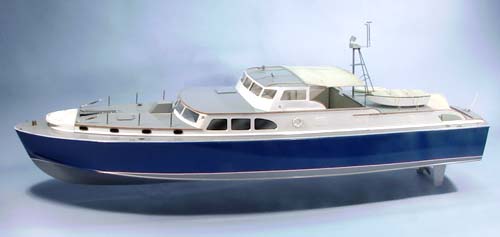 Dumas - Dauntless 49.5" Boat Kit
Manufacturer: Dumas Product Code: DUM 1211
---
1211 Dauntless 49.5" boat kit
This is the Dumas Dauntless 49.5" Commuter Boat. Dumas states that you Can Make this Boat Either Electric or Gas Powered.
FEATURES: Plywood construction Die-cut pieces Highly detailed deck hardware Molded plastic pieces 3/4 "-1" scale appearance Gas or electric R/C powered (up to the modeler)
INCLUDES: All the wood parts required for assembly, plastic parts, decking hardware, brass rods, fully detailed instructions, and plans.
REQUIRES: 14x50 flat building board, soldering iron, hobby knife, hobby saw, hammer, drafting triangle, drills, 2 ounce fiberglass cloth, epoxy, CA, polyester finishing resin, microballoons, sandpaper, paints, Dumas hardware kit #2332. SEE COMMENTS FOR POWER PLANTS AND PROPS.
SPECS: LENGTH: 49 1/2 " Width 14" Scale 3/4 "-1"
COMMENTS: Power Props Speed Single 6V or 12V motor 3114-3115 3-4 mph per shaft direct drive (L & RH 3 bld) 2 6V or 12V motors 3112-3113 5-7 mph per shaft (no reduction) (L & RH 3 bld) .19-.25 glow engine 3105-2 bld 9-15 mph 3117-3 bld .29-.40 glow engine 3115-1-3/4" 3 bld 15-20 mph 3113-2" 3 bld
Latest Products
You may also like