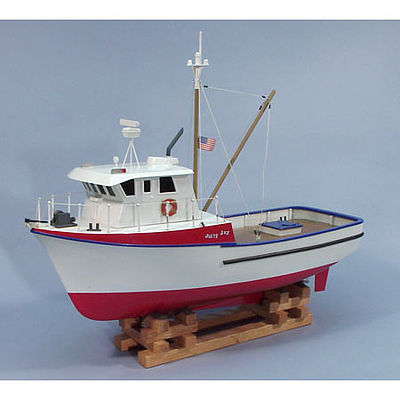 Dumas - 1/30 Jolly Jay Fishing Trawler Kit 24"
Manufacturer: Dumas Product Code: DUM 1231
---
1231 1/30 Jolly Jay Fishing Trawler Kit 24"
The Jolly Jay is a scale model of a commercial fishing trawler built by the Thompson Trawler Inc. of Titusville, FL. The boat is used in the fish and shrimp industries off the Florida coast and the Gulf of Mexico. The original boat has a length of 60 ft. and a beam of 20 ft. It is powered by a 365 HP Caterpillar diesel driving a 60" propeller. With the capacity to hold 40 to 50 thousand lbs. of fish, the trawler can sustain a fishing trip of up to 30 days. The Jolly Jay has many things going for it, such as poplar plywood frames, balsa wood planking, preformed ABS plastic cabin parts, and complete drive line runnig hardware, including a 4.8 volt electric motor. Jolly Jay can be radio controlled with a two-channel radio or built for display only. Everyone is sure to enjoy the Jolly Jay.
Length: 24"
Beam: 8-1/2"
Scale: 1/30th
Running Hardware included in kit
4.8v Motor included in kit
*Additional parts needed to run your JOLLY JAY:
# Batteries
# 2 Channel Radio Control
# DUMA8314 Electronic Speed Control or RCNZ 320A ESC
Latest Products
You may also like