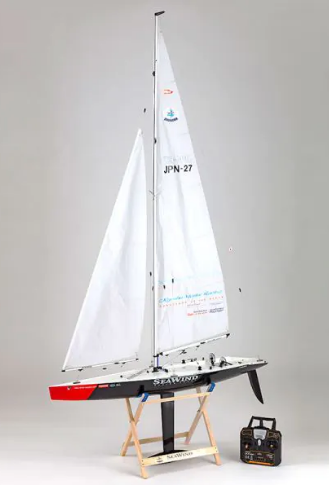 Kyosho - Seawind Readyset Yacht
Manufacturer: Kyosho Product Code: KYO 40462ST2-B
---
40462 Seawind readyset yacht complete
The secret to long-term success is performance. Now with even more evolved specifications!

Enjoy real racing yacht performance in this Readyset including 2.4GHz RC system!

Kyosho has captured the stunning style and performance of the JF class yacht racing in a model worthy of its high-end status. The classic design of the 'Seawind' has cruised the waterways with grace and speed since it hoisted its colours more than 10 years ago. The large aspect ratio of the long span keel and tight response from the push-pull rudder control make up the Seawind's race-ready specifications. Sharp acceleration brings the Seawind quickly up to full speed while exceptional energy efficiency delivers maximum stability in light winds so you can use light breeze like a pro. The Readyset includes a moulded one-piece ABS hull factory finished in a new colour design that comes fitted with a 2.4GHz RC system that automatically manages frequency band selection. With the Seawind, you can be cutting a wake through the water in a high-end racing yacht in next to no time, and at a reasonable cost too. In addition, the mast, keel and rudder can be detached without the use of any tools for compact storage and transport so you can take it with you on holidays without it taking up a lot of space. The sail and rudder servos are waterproof and deliver exceptional reliability under various conditions. Answer the call of the wind with this high-level Seawind Readyset!

Readyset installed with 2.4Ghz R/C system realized at a value price.
oPre-assembled one-piece ABS hull complete with colouring.
oAluminium mast and boom are hard anodized for extra strength.
oFeatures extruded high strength aluminium mast and boom.
oFeatures pre-cut and sewn spin cloth main and jib sails.
oLarge aspect ratio keel provides low resistance and excellent performance even under strong winds.
oSuper strong structure features shaft from deck through to the ballast.
oBallast is lead-free for environmentally friendly specifications.
oEquipped with rubber cap for easy release of water from the hull.
oPacked with accessory parts for extra detail as a display model.
oPush-pull rudder and sail control provides sure control for sharp racing performance.
oFeatures waterproof sail and rudder servo.
oThe main mast, keel, ballast and rudder can be detached without the use of any tools.
Technical Data

Length998mm
Width226mm
Height1,850mm
Weight2,800g (approx.)
Sail Area39dm2
You may also like