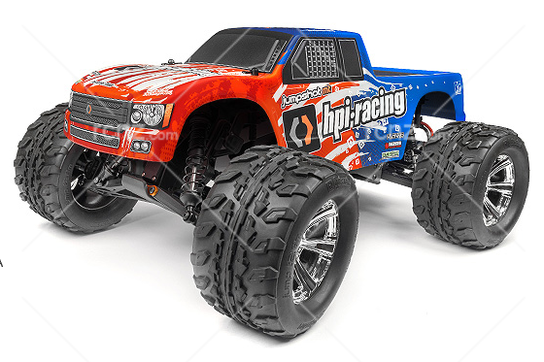 HPI - 1/10 Jumpshot MT V2.0 2WD Monster Truck Readyset
Manufacturer: HPI Racing Product Code: HPI 120080
---
1/10 Jumpshot MT V2.0 2WD Monster Truck Readyset
Dispatch
From Supplier - Ships in 4-8 Business Days
The Jumpshot MT V2 is the big-tire monster truck version of the Jumpshot platform, and features a big, aggressive pick-up truck body and extra-wide wheels and tires to give the truck powerful looks to match its impressive performance! The V2 version is packed with brand new features for maximum fun anywhere you drive it! For extra speed, the new 12-turn 550-size motor with optimized gearing is great for fast acceleration and high top speeds, and the durability improvements include new drivetrain gears, suspension parts and servo saver! 
Underneath the big monster truck body of the Jumpshot MT V2, the chassis is a Savage-style TVP (Twin Vertical Plate) design for a super-stiff chassis and center-balanced weight. The modular design of the Jumpshot chassis gives you simple maintenance and durable crash protection for all the electronics. The battery is quickly accessed from underneath the truck, so changing batteries is extra-fast for more driving fun! The Jumpshot MT V2 has also been updated with a brand new look that is bright and sure to grab the attention of all your RC friends! 
Jumpshot V2 - Packed with Features!
The Jumpshot V2 line-up is loaded with features that will keep you driving for hours! In the middle of the Savage-style TVP chassis, the radio box is protected from the elements, and the steering features not just a sturdy direct-link steering system but also a water-resistant steering servo for extreme protection. A powerful rear-wheel 2WD drivetrain lets you kick out the rear end for extreme fun, on-road or off! The new 12-turn, 550-size motor with its waterproof, LiPo-ready speed controller and optimized gear ratio gives you great acceleration and top speed, and the new extra-durable gears are much stronger than the original design. A newly designed servo saver and stronger upper suspension links also make the front end and steering extra-rugged for driving over the rough stuff!
Like all HPI cars and trucks, a complete set of ball bearings lets you get the most out of every battery pack without losing any power from the brushed motor fitted at the back of the chassis. This means you can blast through any type of terrain you want, whether it's grass, mud, asphalt, gravel or anything else! 
Factory-built Ready To Run 2WD monster truck
NEW! 12-turn 550-size motor for maximum power 
NEW! Optimized gearing for great acceleration and top speed
NEW! Metal idler gear in the transmission
NEW! More durable spur and diff gears 
NEW! Revised servo saver
NEW! Strengthened suspension links
Tough aluminum TVP chassis design
Battery box fits 6- or 7-cell NiMH flat style stick packs and 2S LiPo packs
Battery easily accessible from bottom of chassis
HPI SC-3SWP2 Waterproof LiPo-ready ESC
NEW! ESC fitted with high-power T-Plug 
Enclosed receiver box
2.4 GHz radio system
Oil-filled shock absorbers
Double-wishbone suspension design
Sturdy body mounts
Standard 12mm hex hub wheel fitting
Pick-up truck style body with the latest HPI graphics
Large all-terrain tires
Chrome 6-spoke wheels
Specifications:
Length: 420mm
Width: 330mm
Height: 205mm
Wheelbase: 270mm
Weight: 1.85kg

What you need:
4 AA batteries for transmitter 
6- or 7-cell NiMH flat style stick pack or 2S LiPo pack with T-plug 
Battery charger for truck battery
Latest Products
You may also like