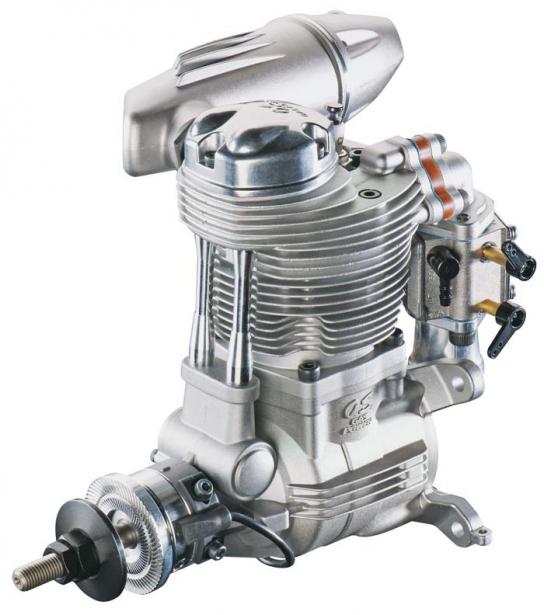 O.S - GF40 Gasoline Four Stroke Engine with F-6040 Silencer
Manufacturer: O.S Engines Product Code: 39400
---
39400 GF40 Gasoline Four Stroke Engine with F-6040 Silencer
This is a four stroke engine whose exhaust note matches scale models.
Quick response and torque feeling of four stroke engine suit aerobatic and sport models too.
Mounting bolt pattern is the same as O.S. GT33 and it is easily installed in the existing models.
(The distance between mounts and drive hub face is the same as the GT33.)
The same fuel for two stroke engine can be used. (oil mix ratio 25:1 ~50:1)
New special carburetor has been developed in collaboration with Walbro.
New compact and light weight special ignition module has been developed.
Convenient choke rod guide is integrated with backplate.
PCV (Positive Crankcase Ventilation) system is employed, which prevents model and environment getting
dirty without emitting blow-by gas and oil waste.
Offers traditional 4-stroke benefits with the ease and economy of a gasoline engine.
Quick, powerful response makes it an ideal choice for aerobatic as well as scale models.
Perfect for scale aircraft, with a deeper exhaust note that mimics the sound of full-size aircraft.
Features the GT33's mounting bolt pattern and mount-to-drive hub distance.
Outstanding fuel economy -- runs on a mix of engine oil and standard gasoline.
Rear-mounted carb designed by O.S. & Walbro(R).
Lightweight ignition module accepts NiCd, NiMH, LiPo or LiFe battery power.
Muffler and integral backplate mount included.
Backplate features an integral choke rod guide.
PCV (Positive Crankcase Ventilation) system recirculates blow-by gas and oil waste for a cleaner engine and environment.
You may also like