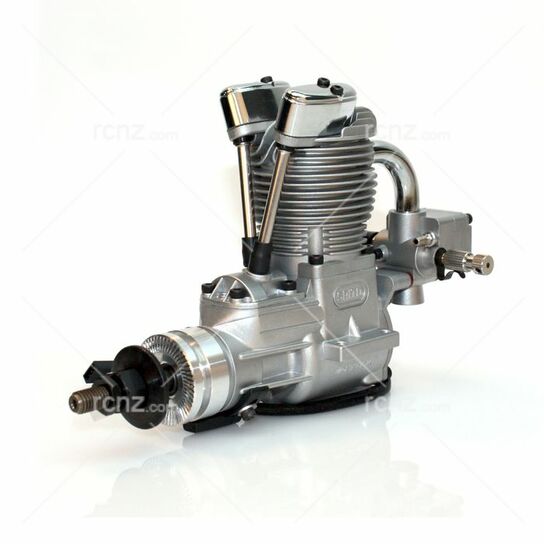 Saito - FG-21 4C Petrol Engine with Electric Ignition
Manufacturer: Saito Product Code: SAITOFG21
---
FG-21 4C Petrol Engine with Electric Ignition
Dispatch
Overseas Supplier - Ships within 4 weeks
PRODUCT FEATURES
The FG-21 runs with any good quality forecourt petrol, mixed 20:1 with oil.
Latest carb technology makes for easier tuning and operating.
21cc displacement in a 17cc case.
New valve seat design.
New, smaller magnetic ignition system fits into tighter cowl installations.
PRODUCT DESCRIPTION
There are a lot of advantages to going with Petrol, like cleaner operation and cheaper fuel. But Saito 4-stroke Petrol engines give modelers more; namely some of the most impressive power-to-weight ratios in their class. The new FG-21 is no exception. Based on the groundbreaking Saito FG-20, it packs 21cc's of power into a 17cc case. Accompanying the extra displacement is the latest carb technology, updated exhaust valve seats and, of course, the sweet 4-stroke sound Saito engines are famous for.
SPECIFICATIONS:
Bore: ø32.0mm
Stroke: 26.0mm
Stroke Volume: 20.91cc
Weight: Body: 690g/Muffler: 83g/Ignition System: 113g/Mount: 156g
Practical RPM: 2,000 ~ 9,500
Fuel: Petrol(Gasoline): Oil = 20:1 (Volume Ratio)
Fuel Flow: Approx 15cc/min (at full throttle, approx 8,800 rpm) Fuel flow variess depends upon propeller load. More fuel flow with larger load and less fuel with smaller (In actual flight, fuel flow somewhat increases.
Recommended Prop: 15 x 8 ~ 16 x 6in
Static Thrust: 3~4kgf (8,800RPM)
Latest Products
You may also like