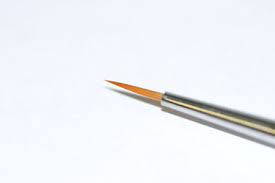 Tamiya - Ultrafine Pointed Brush
Manufacturer: Tamiya Product Code: 87048
---
87048 Ultrafine pointed brush
This is a Tamiya High Finish Pointed Modeling Paintbrush (Ultra Fine).
FEATURES: High quality, easy to use performance. Made of polybutylene terephthalate. Brownish yellow colored bristles. This brush would better be used for painting thin areas. Black handle with white imprint. Plastic protective covering for bristles.
INCLUDES: One High Finish Pointed Modeling Brush (Ultra Fine)
SPECS: Length: 6-3/4" Bristle Width: 1/32"
Latest Products
You may also like