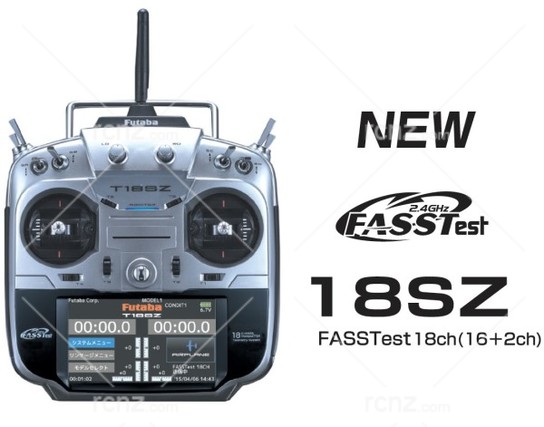 Futaba - 18SZ 2.4G FASST Radio Set with R7008SB Mode 1
Manufacturer: Futaba Product Code: 18SZA
---
Futaba - 18SZ 2.4G FASST Radio Set with R7008SB receiver - Mode 1
Dispatch
Special Order - PLEASE ENQUIRE
DESCRIPTION
The new Futaba 18SZ includes an amazing array of features that are sure to please all airplane, helicopter and multirotor pilots. Eighteen channels allow even the most complex of models to be controlled. A large, color LED touchscreen and display simplifies data entry and programming tasks. Additional features include flight conditions, S.Bus servo programming capabilities and several selectable languages. The included Futaba R7008SB FASSTest 8+ channel S.Bus receiver enables bi-directional communication and the use of a variety of Futaba telemetry sensors.
For many years Futaba have led the way with the ultimate in radio systems, and they have done it again with their new T18SZ.
Packed full of possibilities, the T18SZ includes a Li-Fe battery for extended run times, S-FHSS, T-FHSS, FASST and FASSTest transmission systems, 4.3" colour ultra quick response touch screen, flight conditions, a massive range of mixing and programming options for Aircraft, Gliders, Helicopters and Multirotors, Telemetry, Data Logging, etc, not to mention full 18 channel operation.
Supplied complete with the 8 18 channel R7008SB receiver, the T18SZ is the perfect radio for any serious pilot, and of course the regular software updates provided by Futaba will keep this superb radio up to date.
Futaba 2.4GHz FASSTest, FASST, T-FHSS, S-FHSS Modulation
18 Channel (16 Linear + 2 Digital)
30 Internal Model Memory
SD Card External Model Memory (SDHC is available.)
Telemetry System (Details Below)
Voice Message
Easy Software Updates using SD card
Stick Calibration
Ultra-Fast 109mm (4.3") Colour TFT-LCD Touch Screen
2 Front Dials
2 Side Levers
6 Trim Levers
8 Toggle Switch
Long life LiFe Battery (LT2F2100B)
Antenna Angle Adjustment (90 degree and 3 step Rotation)
Built-in Speaker
Earphone Jack
S.BUS I/F (with Power Supply)
Trainer PPM 8CH / PPM 12CH / S.BUS (16CH)
Trainer S.BUS Port
Adjustable Angle Sticks
Built-In Vibrator
Basic Program Features

15 Character User Names
15 Character Model Names
Condition Name
Function Setting
Function Rename (AUX function only)
Sub Trim (?240 steps)
Servo Reverse
Fail Safe
Battery Fail Safe (All Channels on FASSTest/FASST-Multi/S-FHSS, 3 Channel FASST 7CH)
EPA (30 - 140% with Limit setting)
Servo Speed Adjustment
Trim Setting (Step, Rate, Mode)
Flight Condition (Maximum 8 conditions)
AFR (D/R)
AFR Curve Mode (3 Types)
AFR Curve Point Number (Maximum 17 points)
Programmable Mixing (10 per Condition)
Throttle Cut
Idle down
Logic switch (Condition switch only)
Data editor for S.BUS equipment
Servo Monitor (with NT and Moving Test)
2 Up/Down Timers
Integral Timer (System Timer)
Model Timer
Stick Alarm
Telemetry Options
Receiver Battery
Temperature Sensor
RPM Sensor (Magnetic)
RPM Sensor (Optic)
Altitude Sensor (with Vario)
GPS Sensor (Included Altitude Sensor)
Voltage Sensor
Current Sensor
Voice
Data Logging
Specification

Dials: 2
Memory:Expandable SD/SDHC Card Slot
Mode:Mode 2 (Left Hand Throttle)
Model Memory:30 (+ SD/SDHC Card)
Modulation:Futaba 2GHz FASST, FASSTest, T-FHSS, S-FHSS
Receiver:R7008SB 2.4GHz FASSTest (Inc.)
S.BUS: S.Bus & S.Bus2
Screen: 109mm (4.3") TFT-LCD Colour Touch Screen (Inc.)
Sliders:2
Speaker:(Inc.)
Switches:8
Telemetry:T-FHSS & FASSTest Telemetry + Voice
Trims:6
Battery:FT2F2100B 2100mAh Li-Fe (Inc.)
Channels:18 (16 Full + 2 Switch)
Latest Products
You may also like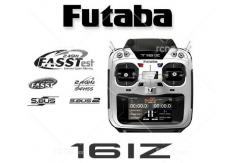 Ships in 2-5 Business Days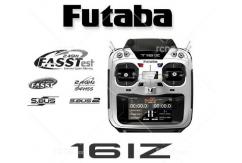 Out of Stock