RadioLink - T8FB 8ch Programmable 2.4G FHSS Radio Set with S-Bus
Manufacturer: RadioLink Product Code: T8FB
---
T8FB 8ch Programmable 2.4G FHSS Radio Set with S-Bus
Introducing the RadioLink T8FB - A Great value 2.4Ghz 8-Channel programmable radio system w/ SBUS.
The T8FB is an excellent transmitter for beginners and although it has a simple and clean appearance, inside there's a lot going on!
The supplied R8EF receiver runs on PPM or SBUS making it perfect for racing drones using modern flight controllers or for normal use via the eight servo sockets.
Features:
8 Channels
NEW - Android App available for programming (requires cable not included)
NEW - Now binds to the R8FM, R8EF, R4F and R4FG receivers.
SBUS, PPM and PWM Operation
Modern high quality feel and performance.
Wide Voltage Support. 4.8 - 18V any Battery Type.
Reverse Polarity Protection.
Low Power Consumption - Long Run Times. 
Fully Programmable via USB port.

Data Back-Up and Firmware Updates 
Servo Reverse
Sub-Trim
End-Point
D/R
Delay
Failsafe
Aux Channel Assignment
Stick Mode
Battery Alarm
Attitude Switch. Used for Multiple Flight Mode Options on Multi-Rotors.
Elevon Mix
V-Tail Mix
Two User Programmable Mixes 
Specifications: 
Dimension : 175mm x 170mm x 100mm
Weight : 460g
Frequency : 2.4Ghz, FHSS
Operating voltage : 4.8V ~ 18V
Control range : 0.5km ~ 1km depends on environment
Channels: 8 Ch
Whats in the Box?
The Latest RadioLink T8FB Transmitter.
RadioLink R8EF S.BUS/PPM 8 Channel Receiver.
Stick Spring Hardware (To remove the ratchet and make the throttle stick spring back to centre).
A copy of the instruction manual can be found at this link
New Firmware allows the T8FB to bind to the compact 4 channel car receivers R4F and R4FG! You can now use the T8FB for RC cars and much more due to the compact size of the car receivers. Why not unlock the potential of the R4FG gyro receiver for a new level of control.  
New Android App now available- forget the computer, just use your phone! This handy new App lets you access all of the computer functions and make changes on the fly directly from your Android phone.
Latest Products
You may also like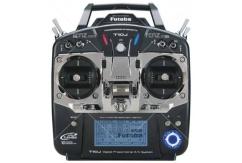 Ships in 2-5 Business Days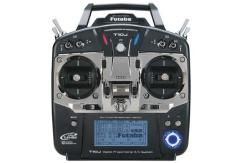 Ships in 2-5 Business Days