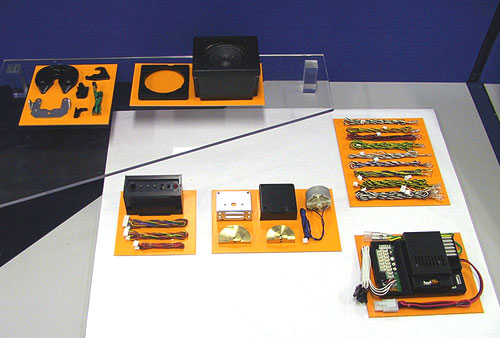 Tamiya - R/C Truck Multi Function Control Unit
Manufacturer: Tamiya Product Code: 56511
---
56511 R/C Truck multi function control unit
About the Tractor Truck Multi-Function Control Unit
Tamiya presents incredible sound and action options for any 1/14 scale R/C Tractor Truck with the all R/C Tractor
Truck Multi-Function Control Unit. This system, when mounted on the truck is located inside the cabin with speaker
to the front and the MFC-01 unit to the rear. The control unit is mounted inside the left tool box for easy access.
A 4-channel R/C system activates all functions
By using your transmitter sticks and the trims you can control the truck movements (forward/backward running
and turns), horn, motorized support legs (sold separately), headlights, position lamps, roof lamps and speed
indicators. You can also activate the back lamp, tail lamps and blinkers/hazard lamps as well as engine revving.
| | | | | |
| --- | --- | --- | --- | --- |
| Head light | Fog lamp | Roof lamp | Tail light | Turn signals |
| Hazard lamp | Speed indicator | Back light | Auxiliary lamp |   |
| | | | | |
| --- | --- | --- | --- | --- |
| Alarm 1 | Alarm 2 | Engine starter | Idling | Air dryer |
| Revving | Running without trailer | Running with trailer | Coupler attachment | Coupler detachment |
| Down-shifting | Up-shifting | Air discharging 1 | Air discharging 2 | Exhaust brake |
| Brake | Short honk | Continuous honk | Turn signal 1 | Turn signal 2 |
| Hazard lamp | Back alarm | Parking brake | Engine stop |   |
Engine start/stop switching
Horn/Support leg switching
Light on/off switching
Turn signal/Hazard lamp switching
Running/Revving switching
Latest Products
You may also like