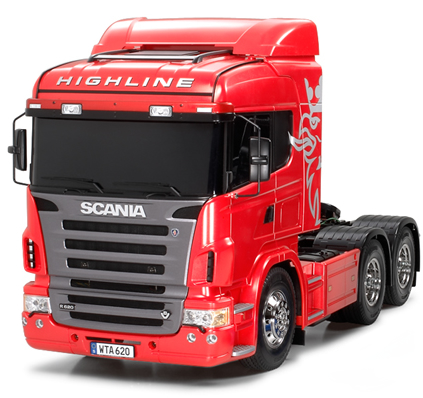 Tamiya - 1/14 Scania R620 Truck - 6x4 Highline
Manufacturer: Tamiya Product Code: 56323
---
56323 1/14 Scania R620 truck - 6x4 Highline

Trucks are essential components of many logistics networks around the world. One such truck which can be seen on the roads carrying large loads is the biggest and most powerful Scania truck, the R620. Tamiya is proud to add this wonderful piece of machinery the R620 6x4 to the 1/14 scale R/C Tractor Truck lineup. This massive tractor truck features 3-axle and is approximately 458mm long. Beautifully reproduced cabin tilts forward separately from the fenders, just like the actual truck. The accurately modeled fenders themselves are removable for realistically depicting a low carrying load. Realistic chassis and suspension further add to the imposing form of this unique model.
Click here to see how the 3 Speed transmission works on this vehicle. 
LEDs accurately recreate the trucks front and rear lights.
Attach the Multi Function Control Unit (MFC-01, not included) to provide sound effectssuch as attaching/detaching any of the currently available trailers, as well as other easilydistinguishable truck sounds.
3-Speed Transmission allows gear shifting to be controlled during driving for added realism.
Metal leaf spring suspension.
Cabin tilts forward just like the full-sized truck.
Type RS540 motor included.
ESC, 4-channel transmitter, battery pack & charger not included.
Also compatible with a wide range of Tractor Truck Option Parts for further customization.
Latest Products
You may also like