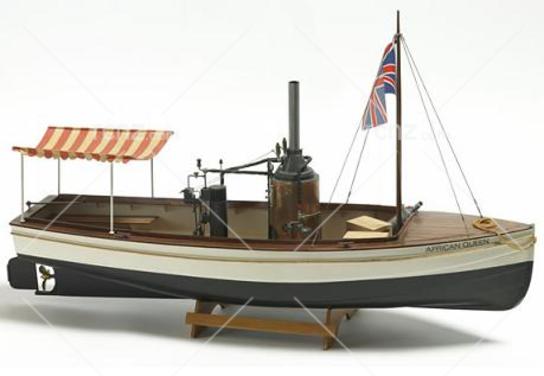 Billing - 1/12 African Queen Boat Kit
Manufacturer: Billing Boats Product Code: BIL 01-00-0588
---
B0588 1/12 African Queen Boat Kit (Advanced Beginner)
Dispatch
From Supplier - Ships in 2-3 Weeks
Billing Boats African Queen Steam Boat - is a scale model of the ship which gave its name to the movie starring Katherine Hepburn and Humphrey Bogart. The story takes place during World War I. The African Queen attacks the German warship "Konigin Luise" on Lake Victoria in Africa, after a long and dangerous trip down the tributaries to the lake. The Billing Boats model has a plastic hull and imitation steam engine.
Kit Contents:
Plan with detailed building instructions German, English, French, ABS plastic hull, decks from wood & plastic, plastic and wooden parts to finish the model, stern tube with shaft and propeller.
Fittings Contents:
All fittings included (e.g. position lights, anchors, life-belt, etc.)
RC Functions:(if fitted, not included in kit)
Forwards - Stop - Backwards.
Rudder Control.
Specification:
Length 740 mm.
Width 210 mm.
Height 430 mm.
Scale 1:12
You may also like