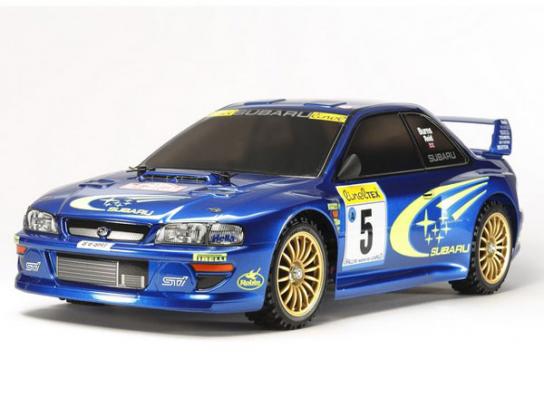 Tamiya - 1/10 Subaru Impreza WRC '99 4WD TT-02 Kit
Manufacturer: Tamiya Product Code: 58631
---
58631 1/10 Subaru Impreza WRC Monte Carlo 99 4WD TT-02 Kit
Description:
The TT-02 chassis line-up is Tamiya's entry level 4WD platform. It allows new kit builders an easy gateway into the world of on-road running due to its easy construction, balanced performance and high aftermarket Hop-Up Option support. This TT-02 kit features the Subaru Impreza rally car that took part in the Monte Carlo Rally of the 1999 World Rally Championship (WRC) season. The Impreza was a legendary force in the WRC from the 1990s and into the next millennium, with 3 manufacturers' championships in a row from 1995-1997. In 1999 they were still competitive with an impressive 1-2 finish for drivers Kankkunen and Burns in Argentina (round 7).
The TT-02 chassis incorporates many features to make it easy for the new R/C kit builder to assemble and learn from. The TT-02 chassis performs well, as cornering and overall speed has been enhanced to take advantage of new electronics available on the market. In addition to the TT-02 being an ideal platform to start from, R/C hobbyists can expand its potential by adding many of the Hop-Up Options available to increase the cars speed and performance.
Feature:
Scale: 1/10
Construction type: Assembly kit
Terrain use: Multi-Purpose
Drive-train: 4WD
Drive type: Gearbox
Drive line: Dog bone
Differential type: Gear
Suspension: Fully independent double wishbone
Steering mechanism: Bell-crank
Shock damper: Friction damper
Shock damper material: Plastic
Tire type: Rubber
Tire tread: Rally block
Body material: Polycarbonate
Chassis material: Plastic
Electronic Speed Control (ESC): Not included
LED Light buckets: No
LED lights: No
Motor: 540-brushed type
Bearings: Plastic bushing
Adjustable camber: Fixed
Adjustable toe angles: Front only
Adjustable ground clearance: Yes
Adjustable gear ratio: Yes
Adjustable wheelbase: Fixed
Adjustable track width: Fixed
Adjustable shock angle: Fixed
Special feature 1: Torque-tuned motor is included!
Special feature 2: The classic form of the car is recreated in polycarbonate, with separately-molded side mirror and rear wing parts.
Special feature 3: The TT-02 chassis features a shaft-driven 4WD system that offers easy handling and great customization.
Special feature 4: Stickers are included to recreate the markings on the car, as are window masking stickers for use when painting.
Special feature 5: 16-spoke gold color molded wheels are paired with rally block tires (Item 50476).
Special feature 6: A wide range of option parts is available to tune the TT-02 chassis.
Vehicle Specification:
Length: 442mm
Width: 186mm
Height: 140mm
Wheelbase: 257mm
Gear Ratio: 9.58: 1
Include:
Tamiya 1/10 TT02 Subaru Impreza Monte Carlo 99 4WD Chassis Kit EP(1 Set)
Motor
Wheels(4Pcs)
Tires(4Pcs)
Body
Decals
Instruction
Require:
ESC
Servo
7.2 battery & Charger
2-channel Radio Gear
CLICK HERE for a radio, servo, battery, charger & paint combo
You may also like