HPI - 1/5 Baja 5B SBK 2WD EP Scale Desert Buggy Kit
Manufacturer: HPI Racing Product Code: HPI 160324
---
1/5 Baja 5B SBK 2WD EP Scale Desert Buggy Kit (Electric Powered option)
HPI large scale fans, we have heard you! The one and only original HPI Baja 5B is BACK and ready for you to build from the ground up! The HPI SBK collection of Self Build Kits grows with the addition of not just one, but TWO 1/5th scale HPI kits! Fans of electric off-road RC will be super excited to build their own brushless-powered 1/5th scale with the HPI Baja 5B FLUX Self Build Kit!
When the HPI Baja 5B buggy was first introduced, large scale RC was very expensive and quite difficult for the average RC hobbyist to experience. Using highly durable parts and innovative design features, HPI brought large scale off-road to new enthusiasts and ushered in a new, BIGGER era of RC!
Now, YOU can build and own the legend! Experience the thrill and excitement of building a car which ends up being over 80cm (nearly 32 inches) long and weighing nearly 10kg (over 21 lb)! Just install your own electronics as you build the Baja 5B FLUX and you'll be ready for any adventure that comes your way!
With extra-tough drivetrain parts taken straight from the gasoline-powered version such as the viscous torque differential, super-durable composite spur gear with internal damping and all-metal drivetrain, the Baja 5B FLUX is ready for up to 8S of raw LiPo power, so you can see speeds of over 50 miles per hour!
The Baja 5B FLUX is also equipped with extra-big and super-tough suspension parts, featuring awesome HPI durability! With its expertly designed molded composite suspension plus extra-long adjustable HD shocks, and massive high impact nylon 3-piece beadlock wheels, the Baja 5B is ready for full-speed racing on any off-road circuit!
The 4mm thick 6061 aluminum monocoque chassis fits a huge battery box and has space for the BIGGEST brushless motors you can find for RC, and also features an adjustable motor mount. Precise steering is provided by a dual-bellcrank rack and cam-type servo saver. Aluminum parts are anodized in cool gunmetal and a sleek FLUX-specific clear polycarbonate body is included in the SBK kit, ready for your custom racing scheme!
The Baja 5B FLUX SBK is a great addition to your HPI collection, as well as a fabulous introduction to large scale buggies!
Features Summary
Unassembled 1/5th scale electric-powered Off-Road Buggy
Ready for your 6S or 8S LiPo electronics
Streamlined HPI Baja 5B Flux body design
Adjustable motor mount
Adjustable HD shock absorbers
Monocoque chassis
Low CG for superior handling
Long travel suspension
Viscous torque oil-filled gear differential
All-terrain tires
Beadlock wheels with metal insert hubs
Aluminum rear shock tower
Hard plastic skid plates
Adjustable rear wing
Quick access to all critical maintenance points
Dual bellcrank steering
Cam type servo saver
Hex socket hardware
Gunmetal anodizing
Full set of rubber-sealed ball bearings
Enclosed receiver box
Chassis Specifications
Overall Length 817mm
Height: 255mm
Width: Front - 460mm; Rear - 480mm
Tire Track (to center of tires): Front - 395mm; Rear - 400mm
Wheelbase: 570mm
Ride Height: 76mm
Suspension Travel: Front - 95mm; Rear - 100mm
Weight: 9.6kg (21.3lb)
Adjustable Camber: front - shims; rear - screw
Front caster: adjustable with shim 22 / 25.5* / 29 degrees (* stock)
Toe-in: Front adjustable with tie rod; Rear adjustable with inserts 0-4 degrees (3 degrees stock set-up)
Aircraft aluminum 6061 T6 monocoque chassis
Double wishbone suspension with adjustable roll center F/R
Drive system: HD metal gears with sealed gear box (8.382:1 gear ratio)
Differential: viscous torque control with 4 pinion gears; sealed diff case with silicone oil
Shock absorber: HD Aluminum coilover shock absorber with fully adjustable preload collar
Wheel type: 3-piece beadlock design, high impact nylon material with inset heavy-duty metal hex hub
BAJA 5B FLUX SBK
1/5th Scale 2WD Electric Buggy Self Build Kit with Clear Body

SPECIFICATIONS:
Length: 817mm 
Width: 480mm 
Height: 255mm
Wheelbase: 562mm
Drivetrain: RWD
WHAT YOU NEED:
Radio system with transmitter, receiver and large scale steering servo
Large scale brushless motor and ESC with suitable high-current battery connectors
1 or 2 matching battery packs with suitable battery charger and connectors to match ESC
You may also like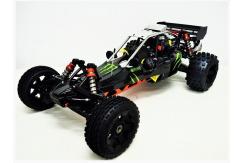 Out of Stock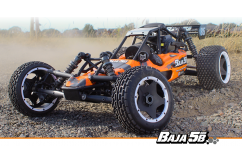 Ships in 4-8 Business Days