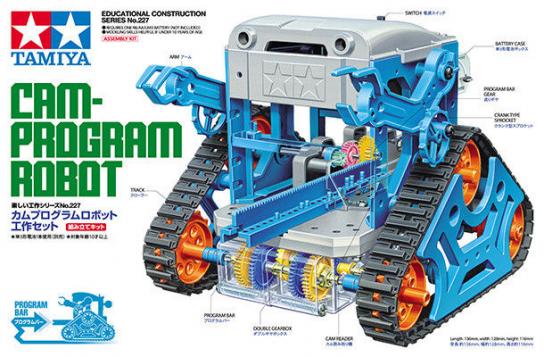 Tamiya - Cam-Program Robot
Manufacturer: Tamiya Product Code: 70227
---
70227  Cam-Program Robot
This Educational Construction series assembly kit aims to help everyone enjoy the fun and informative world of building. The Cam-Program robot is ready to follow your commands – just insert the individual cam pieces into the program bar down the center, and by doing so, program how it is moved by the two gearboxes.
Two motor-powered gearboxes are included in the kit, one to drive each track for powerful motion.
Can be assembled in 2 different setups: one with default movement in a straight line, and the other with default movement of an on-the-spot pivot. The effect of the cams differs depending upon which setup you assemble it in.
The manual includes game ideas and other challenges using the model.
Requires one AA battery.
Compatible with existing Educational Construction series components such as universal arms, plates, wheels and so on.
Features space for the installation of microcomputers, opening up a world of new possibilities.
Latest Products
You may also like