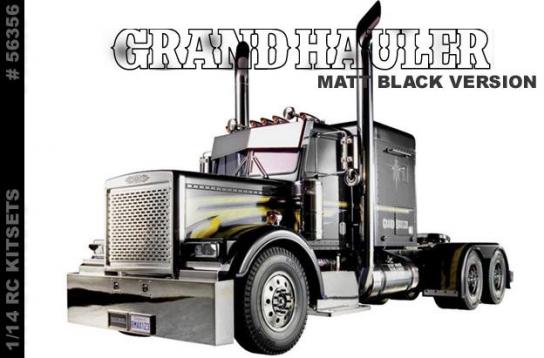 Tamiya - 1/14 Grand Hauler R/C Truck Matte Black Edition
Manufacturer: Tamiya Product Code: 56356
---
56356 1/14 Grand Hauler R/C Truck Matte Black Edition

This is a special edition of the Grand Hauler. The R/C model assembly kit recreates a massive boxy, customized truck like those seen in North America. The special edition version is a great option for those without the time or confidence to apply a paint job to their kit, as the body, and other key body parts are pre-painted Metallic black (Tamiya Color TS-40). Additionally, a matte coating is applied over the metallic black which provides a cool look as seen in current trends in the automotive scene.
The model's ladder frame chassis features aluminum side channels with resin cross members and is equipped with a highly realistic suspension utilizing metal leaf springs and friction dampers. A front-mounted motor and 3-speed transmission power the two rear wheel axles, which are fitted with built-in differentials to enable smooth cornering. A 4-channel R/C system and multi-function unit allow you to drive the vehicle and experience realistic lights, sounds and vibrations. (Both sold separately) 
This customized beauty, sports some new hardware.
Front Bumper
Grille
Visor
Stretched Chassis
Side Steps
Rear Fenders
Rear Bumper
Driver figure
Custom fat exhaust stacks
And more...
Whether by itself or coupled to an optional trailer, the Grand Hauler is sure to turn heads.
Click HERE to see how the 3Speed transmission works on this vehicle.

Product Specifications
| Type | Detail |
| --- | --- |
| Scale | 1/14 |
| Construction type | Assembly kit |
| Terrain use | On-Road |
| Drive-train | 4-axle semi |
| Drive type | 3-speed |
| Drive line | Dog bone |
| Differential type | Live axle |
| Suspension | Leaf spring |
| Steering mechanism | Bell-crank |
| Shock damper | Friction damper |
| Shock damper material | Aluminum |
| Tire type | Rubber |
| Tire tread | Radial |
| Body material | ABS Plastic |
| Chassis material | Aluminum & plastic |
| Electronic Speed Control (ESC) | Not included |
| ESC model | N/A |
| LED Light buckets | Yes |
| LED lights | No |
| Motor | 540-brushed type |
| Bearings | Metal bearings |
| Adjustable camber | Fixed |
| Adjustable toe angles | Front only |
| Adjustable ground clearance | Fixed |
| Adjustable gear ratio | 3-speed transmission |
| Adjustable wheelbase | Fixed |
| Adjustable track width | Fixed |
| Adjustable shock angle | Fixed |
| Special feature 1 | Length: 692mm, width: 190mm, height: 300mm. |
| Special feature 2 | The realistic, lengthened body features newly-designed parts depicting front and rear bumpers, front grille, air cleaners and muffler covers. Muffler covers are made from metal tubing. |
| Special feature 3 | Features a tough ladder frame construction with aluminum side channels and plastic cross members. |
| Special feature 4 | Realistic drivetrain setup sees the front mounted motor powering twin rear axles. |
| Special feature 5 | Metal leaf spring dampers with built-in coil springs provide durable suspension. |
| Special feature 6 | Newly-designed 1/14 scale driver figure included. |
| Special feature 7 | Coupler is included to enable connection with any currently available Tamiya 1/14 scale trailer. |
| Requires A | 7.2 battery & charger |
| Requires B | 4-channel radio gear |
| Requires C | Electronic speed control |
| Requires D | TS plastic model paint |
CLICK HERE for a radio, servo, battery, charger & paint combo
Latest Products
You may also like